Mission Statement
The Ukrainian Cultural Association of Ohio, Inc. (UCAO) is the hub of Ukrainian-American life in Columbus and Central Ohio. Founded in 1983 in Columbus as a nonprofit association, the mission of UCAO is to:
— Promote Ukrainian culture, such as language, arts, sciences, literature, and history,
among its members and the general public
— Sponsor Ukrainian cultural and civic events in Central Ohio
— Provide financial and other support to people, organizations, and institutions for the
purpose of promoting Ukrainian culture, as well as humanitarian aid to those in need in
Ukraine.
UCAO Activities
Ukrainian news/bicmi. UCAO publishes an e-newsletter, Ukrainian news/bicmi, in English, about 12 times a year. Delivered directly to your inbox, it keeps membership informed about upcoming events that are on our regular calendar, and includes notices about special events, visiting groups from Ukraine, concerts, and other items of interest to our membership. You can subscribe to the newsletter by emailing us at ucaohio@gmail.com.
Facebook. UCAO maintains a Facebook page with daily postings, photos, links, and announcements of events. Remember to like us on Facebook so you can receive our posts.
Malanka. The Old Country tradition of greeting the coming new year on St. Melania's feast day (New Year's Eve, old calendar) finds a modern incarnation each year as UCAO hosts a festive dinner with entertainment, auctions, raffles, and lively conversation. The annual event draws guests not only from the metro Columbus area, but also Athens, Cincinnati, and Dayton.
Pysanka Workshops. The ancient art of writing pysanky is one of Ukraine's greatest and most universally appealing folk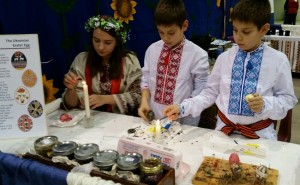 traditions. Each year, UCAO conducts pysanka workshops for the general public at various venues around Central Ohio. In addition, individual members conduct pysanka demonstrations at the request of local schools, churches, youth organizations, community centers, and retirement homes. Check our Events page for dates on our workshops and registration information. Coming up, December 11, 1 pm, at the Arts Castle in Delaware, Holiday Pysanka Workshop.
International Festival. For more than 30 years, UCAO was a major presence at the Columbus International Festival, winning numerous awards for our exhibits. In 2016, together with the Ukrainian Society of Greater Cincinnati and Dayton, UCAO participated in A World A'Fair, Dayton's international festival, which is held each year in late May and draws more than 30,000 visitors. Our two organizations brought back Ukraine to the international exhibition for the first time in 15 years. The Ukrainian booth featured folk art (ceramics, woodcarvings, bead work, embroidery), music, books, and children's items, and held pysanka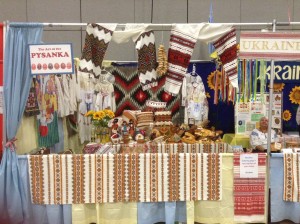 demonstrations throughout the day. In keeping with the official theme designated each year at the Dayton festival, we presented "Sorochynsky yarmarok" as part of the "Marketplace" theme. In 2017 we will be featuring Ukrainian "Folk Medicine." The Ukrainian exhibit received "Cultural Exhibit Award Second Place" and "Overall Exhibit Display Honorable Mention."

Ukrainian Relief Initiative. In light of the crisis in Ukraine in the winter of 2013-2014, UCAO launched the Ukrainian Relief Initiative (URI) in September 2014 with the purpose of raising monetary and goods donations to be sent to volunteers and families displaced or affected by the conflict. We work with volunteer groups that are part of a grass-roots network of volunteers across Ukraine. URI has raised more than $15,000 to date through periodic fundraisers and private donations and sends packages of goods to Ukraine monthly. Read more about this effort on the Ukrainian Relief Initiative page.
Ukrainian Happy Hour. Kick back once a month and enjoy some good Ukrainian company at trendy watering holes around Columbus. Dates and venues are posted on our Facebook page, so take a look!
Community Events. Over the years, UCAO has sponsored theater, music, and dance groups, art competitions, and wine tastings. We have invited authors, filmmakers, artists, and scientists to speak and have screened documentaries and movies. Our goal is keep Ukrainian culture alive and well in Columbus.
We also regularly mark historical or cultural events or figures important to Ukrainian tradition, such as Taras Shevchenko, the Chornobyl disaster, and the Holodomor of 1932-1933. See the Events page for details on the Holodomor Commemoration, November 20.
Sviatyi Mykolai (St. Nicholas). We have been honored by visits from Sv. Mykolai in recent years. He has arrived accompanied by angels, as well as a mischevous devil, but always bearing chocolates and clementines for the good children of Columbus.
Cultural Support. Since 1994, UCAO has provided financial support to various cultural institutions in Ukraine and the U.S. They have included privately run, Ukrainian-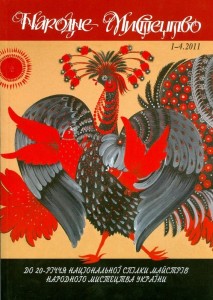 language elementary schools, the arts journal Narodne Mystetstvo, Children of Chornobyl Fund, Smoloskyp Publishing, Ukrainian Museum-Archives in Cleveland, Ukrainian studies programs at the University of Pittsburgh and at Columbia University, and many more.
Hosting. UCAO has hosted hundreds of official groups from Ukraine—members of the Supreme Court of Ukraine, the Arbitration Courts, the Ministry of Justice; various visiting scholars; and study groups of lawyers, teachers, librarians, entrepreneurs, and nongovernment officials.
The Association works closely with organizations that sponsor Ukrainian visitors, including the Supreme Court of Ohio, the International Visitors Council, The Ohio State University, and both the Governor's and Mayor's offices.
Mailing Address
UCAO, Inc.
P.O. Box 1298
Westerville, OH 43086
A Brief History of UCAO
Among Ukrainian communities in North America, Columbus is unique. Ukrainian immigrants did not come here during the first big influx of 1890-1914. They didn't come between the two World Wars. And so the churches, banks, stores, fraternal associations, or youth organizations built by immigrant groups and so familiar in big Ukrainian centers like New York and Chicago are absent here.
The first trickle of Ukrainian immigrants appeared in Columbus in the early 1950s, following the huge displacement of people after World War II. That is when families such as the Fedeczkos, Shymkiws, Kopelziws, and Magoras, settled here. They banded together with other Slavic families from the Carpathian region and eventually organized a church, St. John Chrysostom. While not strictly Ukrainian, the Byzantine Catholic church became a hub for the tiny Ukrainian community.
By the 1960s, the Ohio State University had become a magnet for Ukrainian students, especially from the Parma/Cleveland communities, and many of them graduated and stayed in Columbus. When American Electric Power relocated its headquarters from New Jersey to Columbus, more Ukrainians followed. Job opportunities in health care, scientific research and development, banking drew others. By the early 1980s, there were enough Ukrainians in the area with common interests to start thinking of creating a formal organization. It took a year of preparation, but the 14 founding families and individuals did it, and so, on June 19, 1983, the Ukrainian Cultural Association of Ohio or Українське Культурне Товариство в Огайо was born.
From that original group of 14, Myroslava Mudrak, Alan Landgraf, Irena and Jim Wallace, and Christine and George Mychovsky are still in Columbus and active.
The founders surely could not have predicted that from such a modest beginning, and always with fewer than 100 active members and no outside support, this organization would keep going for 35 years and accomplish so much.
This new Ukrainian Cultural Association of Ohio set itself the mission to preserve and promote Ukrainian culture, both amongst themselves (since they were having children) and in the larger Central Ohio community (since they were still struggling to get recognized as Ukrainians).
UCAO immediately started publishing a newsletter, printing 79 issues between 1983 and 2012. Since October 2014 we have published 63 issues of our e-newsletter. In 1983 we also got involved in the annual Columbus International Festival, and continued every year until 2015, winning many awards along the way. Picnics became annual summer events, and Malankas winter celebrations.
We ran a Ukrainian Saturday School and pre-school from 1984 to 1989, until we ran out of children. Our homes became forums for lectures on Ukrainian culture and history, ceramics classes, receptions for visiting artists and dignitaries.
But from the very beginning, we also thought BIG, always:
In 1983 we got the City of Columbus to issue a Proclamation of the 50th Anniversary of the Great Ukrainian Famine on September 26. Telawsky, accompanied by the St. Pokrova Ukrainian Catholic Church choir from Parma, Ohio, celebrated a Divine Liturgy at St. John Chrysostom Church in Columbus.
We kicked off the celebration of the Millennium of Christianity in Ukraine (988-1988) in 1984 with a Divine Liturgy at the St. Thomas Moore Newman Center on the OSU campus, celebrated by Bishop Robert Moskal, assisted by the Cathedral Choir of Cleveland. In 1988, we continued the celebration with two radio programs featuring liturgical music and a Pysanka Exhibit at the Columbus Arts Center.
During the Christopher Columbus Quintcentennial Jubilee Celebrations in 1992, we organized a pysanka workshop for high school art teachers, followed by a juried student exhibit entitled "The New World of Pysanka Symbols."
At the international exhibit, AmeriFlora '92, at Franklin Park, we presented an exhibit entitled "A Ukrainian Tapestry of Blooms" showcasing pysanky by artists Aka Pereyma and Tania Osadca, as well as student art.
To mark the 10th Anniversary of the Chornobyl disaster, we planted an oak tree in April 1996 in Franklin Park, blessed by Rev. Eugene Linowski, Rev. Valdemar Kuchta, and Rabbi Hirsh Chinn, witnessed by Ukrainians, Byelorussians, and Poles, including a fireman from Chornobyl.
When that oak tree died, we planted another one, in 2015, a silken lilac tree, in the International Peace Garden in Franklin Park. And there was more.
Things began to change around 1989, when the first religious refugees began to arrive in Columbus. They were Pentacostals from northwest Ukraine, mostly Volyn'. As former refugees ourselves, we helped as much as we could to get social services, work, and schools set up for them. The first family to be welcomed and assisted by our members was the Fedorchuks, who arrived in Columbus on June 2, 1989. Today that community of Ukrainians numbers more than 1,000, centered around churches in Galloway and London.
The biggest changes started after Ukraine's independence in 1991. The Supreme Court of Ohio under Chief Justice Thomas Moyer joined forces with the Supreme Court of Ukraine to create the Ohio/Ukraine Rule of Law program. Suddenly Columbus was a hotbed of exchanges with Ukraine! For the next 10 years we were constantly hosting judges, mayors, teachers, lawyers from all over Ukraine every few months. Some came through the Rule of Law program, others through the Columbus International Visitors Council or Library of Congress Open World Program, still others through the Ohio State University. The last such group came in 2011 – 10 men and women, mostly involved in nongovernment organizations interested in urban planning and development in, wait for it, Luhansk! – and we hosted them right here, at this club, at a Malanka.
As part of our mission, we have always promoted Ukrainian performers. After independence, little arts groups sprang up in Ukraine and began to tour the U.S. and Canada, and several stopped by in Columbus for a performance. Veselyi Lviv, Ostap Stakhiv Folk Theater, and Veseli Halychany all performed at Chemical Abstracts. But we also have had our own arts groups come to town. The Kobzari Ensemble of the Ukrainian Bandurist Chorus, a touring group from the Kashtan Dance Ensemble of Cleveland, Fata Morgana band, Lysenko String Quartet.
We did more than party and shop with our countrymen in the 1990s and 2000s. For many years, our main source of income was from sales at the Columbus International Festival. Since 2000, that money has gone to a host of philanthropic causes both in the U.S. and Ukraine, from the Ukrainian-Museum Archives in Cleveland to the Orange Revolution to Ukrainian-language schools in Ukraine to the Fund to Aid Ukraine on Maydan, and many more. I am proud to report that, as of December 2017, UCAO has contributed more than $35,000 to such worthy causes.
In addition, in October 2014, following the terrible events on the Maydan in Kyiv, we formed the Ukrainian Relief Initiative, a separate fundraising arm, which has brought in an additional $17,000 over three years, money which is sent to Ukraine to soldiers and families affected by the war as soon as we raise it.
In the last 15 years, our community has seen a lot of new families and individuals from Ukraine settling here. Many are here today because they share the same longing to celebrate our culture and history and language that first gave birth to the Ukrainian Cultural Association of Ohio. It has broadened our connections and we have found friends not just in the metro Columbus area, but also in Cincinnati and Dayton and Athens. This new generation of Ukrainians has given us new energy and purpose.
Most of the older generation who defined this community in the 1950s is gone, as you can see from our In Memoriam board. We just have pani Yulia Fedeczko left. Even four of our founding members have passed away, most recently Dr. Lesia Melnyk and Arcadia Melnyk. We are grateful for the commitment of the previous generation to their heritage and to the founders for their commitment to our future. And it is our hope that you share this commitment and will invest your energy into building the next 35 years of this community.