Newsletter. UCAO publishes an e-newsletter, in English and Ukrainian, twice a month. Delivered directly to your inbox, it keeps membership informed about upcoming events. Please sign up here!
Social Media. UCAO maintains a Facebook page and Instagram feed with information about our upcoming events. Remember to like and follow!
Malanka. The Old Country tradition of greeting the coming new year on St. Melania's feast day (New Year's Eve, old calendar) finds a modern incarnation each year as UCAO hosts a festive dinner with entertainment, auctions, raffles, and lively conversation.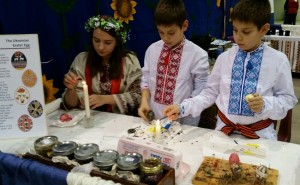 Cultural Workshops. We share the love of our culture through many types of workshops throughout the year: cooking, various cultural crafts, and the ancient art of writing pysanky. Each year, UCAO conducts pysanka workshops for the general public at various venues around Central Ohio. In addition, individual members conduct pysanka demonstrations at the request of local schools, churches, youth organizations, community centers, and retirement homes. Check our Events page for dates on our workshops and registration information.
Community Festivals. For more than 40 years, UCAO has been a major presence at community festivals in the Central Ohio region: Columbus International Festival, A World A'Fair in Dayton, and the Westerville Arts Festival. We look forward to many more events to share our love of Ukrainian culture and raise awareness of Ukraine.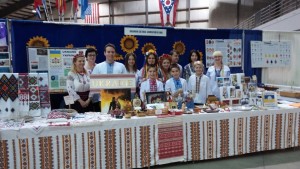 Ukrainian Relief Initiative.  In light of the crisis in Ukraine in the winter of 2013-2014, UCAO launched the Ukrainian Relief Initiative (URI) in September 2014 with the purpose of raising monetary and goods donations to be sent to volunteers and families displaced or affected by the conflict. In 2022, our efforts have been doubled as the needs of Ukraine have reached critical proportions because of the Russian invasion.
Community Events. Over the years, UCAO has sponsored theater, music, and dance groups, art competitions, and wine tastings. We have invited authors, filmmakers, artists, and scientists to speak and have screened documentaries and movies. Our goal is to keep Ukrainian culture alive and well in Columbus.
We also regularly mark historical or cultural events or figures important to Ukrainian tradition, such as Taras Shevchenko, the Chornobyl disaster, and the Holodomor of 1932-1933.  See the Events page for details.
Sviatyi Mykolai (St. Nicholas). We have been honored by visits from Sv. Mykolai in recent years. He has arrived accompanied by angels, as well as a mischevous devil, but always bearing chocolates and clementines for the good children of Columbus.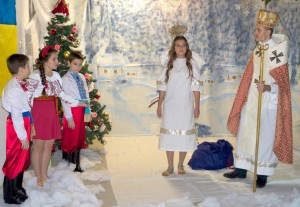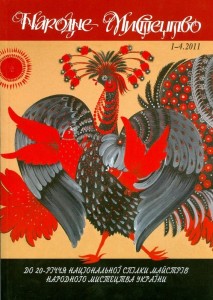 Cultural Support. Since 1994, UCAO has provided financial support to various cultural institutions in Ukraine and the U.S. They have included privately run, Ukrainian-language elementary schools, the arts journal Narodne Mystetstvo, Children of Chornobyl Fund, Smoloskyp Publishing, Ukrainian Museum-Archives in Cleveland, Ukrainian studies programs at the University of Pittsburgh and at Columbia University, and many more.
Hosting. UCAO has hosted hundreds of official groups from Ukraine—members of the Supreme Court of Ukraine, the Arbitration Courts, the Ministry of Justice; various visiting scholars; and study groups of lawyers, teachers, librarians, entrepreneurs, and nongovernment officials.
The Association works closely with organizations that sponsor Ukrainian visitors, including the Supreme Court of Ohio, the International Visitors Council, The Ohio State University, and both the Governor's and Mayor's offices.