Our current campaign —
English Books for Children in Ukraine Campaign
Since 2016 is the English Language Year in Ukraine, we have been collecting and sending English-language books for young readers to school libraries in Ukraine. By June we had collected more than 500 books! We have send boxes of books to a school in Zmiiv, Kharkiv oblast, to grammar school #14 in Lutsk, and a school in Marganets, Dnipropetrovsk oblast. Word has spread on Facebook and teachers from other schools are now asking us for books to aid in learning English.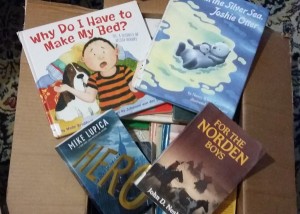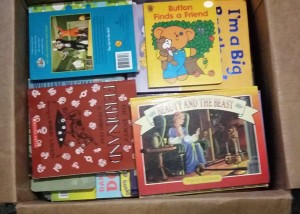 We need gently used or new fiction books appropriate for ages 6-12. Some libraries, thrift stores, and Half Price Books give the books for free when you ask for a donation for our cause. Contact Iryna Soltys-Petrowsky for questions or drop-offs.
What is the Ukrainian Relief Initiative?
Inspired by the historic events on the Maidan in Kyiv in the winter of 2013-2014, UCAO launched the Ukrainian Relief Initiative (URI) in September 2014 with the purpose of raising monetary and goods donations to be sent to those affected by the war, as well as the needy in Ukraine. We deal only with volunteer groups who are part of a network of volunteers across Ukraine. They are receiving humanitarian aid from grass-roots organizations like ours from the United States, Europe, and Ukraine. To make sure aid is distributed equitably, they collect information on locations and people of greatest need, sort through all the donated goods to assemble packages that meet that need, and deliver the items. There is no waste, we have confidence in our liaisons, and greedy hands are circumvented.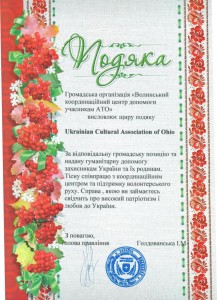 A thank you from the Volyn' Coordinating Center of Aid to ATO Volunteers, received August 2016.
To date, we have raised more than $15,000 through various fundraising events and from private donations. Help has come not only from our Ukrainian communities in Columbus, Athens, and Cincinnati, but also from American communities that have learned of the plight of today's Ukrainians under siege. We send large parcels to Ukraine every month. They have contained warm clothing, footwear, school supplies, toys, and medicines — everything geared to requests coming from the grass-roots volunteers who know the immediate needs on the ground.
The Great Ukrainian Garage Sale
Every year we hold a major garage sale, with all proceeds going to the Ukrainian Relief Initiative.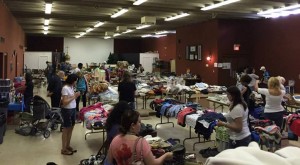 Scores of volunteers sort through the hundreds of donations received for the one-day sale. Crowds come looking for a bargain and a taste of our homemade pastries. Through just the garage sales alone, we have raised more than $4,000.
Donations
The task is urgent and difficult, with no end in sight. We appreciate your help with our all our campaigns. And please consider sending a donation — no amount is too small. Please make checks payable to UCAO, Inc., with URI in the memo line. If you have any questions, contact us at ucaohio@gmail.com.
Ukrainian Relief Initiative
UCAO, Inc.
P.O. Box 1298
Westerville, OH 43086