Benefit Concert for Ukraine
October 2 @ 4:00 pm

-

7:00 pm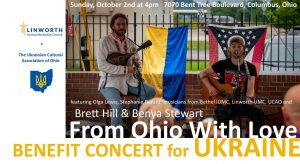 Linworth United Methodist Church will be hosting musicians to raise their voices to raise funds to support humanitarian aid efforts in Ukraine.
The current violence in Ukraine continues, part of a war that started 8 years ago, but represents a 400 year struggle for Ukrainian self-determination. Ukrainians here in Columbus, Ohio, continue to raise awareness and funds to support the fight for freedom. As many as 200 people a day are dying in the fight.
UCAO (the Ukrainian Cultural Association of Ohio) is doing everything we can to help raise awareness of Ukraine as well as fundraise for humanitarian aid. We are a small dedicated group that was founded in 1983. UCAO's mission is to fundraise and provide humanitarian aid to Ukraine, as well as celebrate and raise awareness of Ukrainian culture.
The group, From Ohio with Love will be our primary musical host for the evening – with other guest musicians – including Linworth UMC's own Stephanie Durant. From Ohio with Love has been raising finds to supply IFAKS to the front lines of the Ukraine war. IFAKS are individual first-aid kits for bleeding control and major wound treatment. Tactical IFAKS include tourniquets, chest seals, combat gauze, and other hemostatic agents. The kits are one-time use, so they must be replenished constantly. A portion of the funds will go to From Ohio with Love and a portion of the donations will go to UMCOR efforts in Ukraine.