Malanka 2023 & UCAO's 40th Anniversary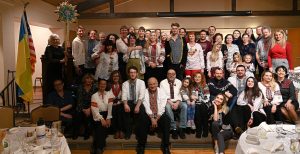 Thank you to everyone who joined us to celebrate Malanka!
Although we are still finalizing the financial accounting, we can safely say we raised at least $2500 towards medical supplies for Ukraine. Updated financial reporting will be available on our website soon (please bear with us, we are a team of volunteers!) What we do know is that our generous donors made it possible for us to host 28 newly-arrived refugees, and helped cover the cost of discounted tickets. Even though our hearts were heavy with the war in Ukraine, the weight lightened just a little, sharing in this good company.
Please visit our Facebook page for photogallery and links to some our generous donors and supporters. Thank you to everyone who took pictures and shared them with us! Special thank you to Stanislav & Ksenya Volskyi of Golden Frame Photo and Dr Yury and Lydia Slyvka.
Thank you to our performers, especially Colin Graham and Olena Mladenova for their moving piano performances. And thank you to our talented troupe: Yura S, Denis Shkurapet, Svitlana Sushch, Daryna Zaitseva, Andriana Nazar, Vadzim Sarokin, Simon Wirtz, Yulia Korotaeva and her family, Victoria Savage, Iryna Soltys-Petrowsky and Natalia Lebedin.
The evening's program is available here: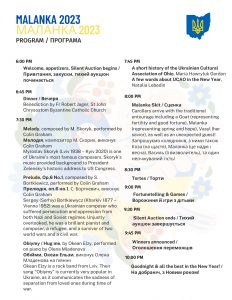 Our table centerpieces, featuring a didukh, kalynka, kutia, svichka and kolach were designed and prepared by Natalya Schaller:
Sheaf of Wheat / Дідух / Didukh Each stalk of wheat symbolizes our ancestors and departed loved ones who are unable to join us in the feast this evening.
Red viburnum / Калина / Kalyna The ethnic and national symbol of Ukraine, kalyna represents beauty, love, motherhood, blood, the immortality of family, fire, national resurgence, womanhood, life, and love for the homeland.
Wheat berries, poppy seeds, honey / Кутя / Kutia Dating from pre-agricultural times, this dish is a symbol of unity of generations: past ones and coming ones. It is a symbol of life, of victory over death.
Candle / Свічка / Svichka A lighted candle is traditionally placed in the window as an invitation to any homeless stranger or perchance a lost soul, to join the family in celebrating the holiday.
Braided Bread / Колач / Kolach The bread's circular shape symbolizes eternity and represents luck, prosperity, and good bounty.
Please also take a moment to see our presentation of UCAO's 40-year history, and what we have planned for the coming year:
Thank you Maria Hawryluk Gordon (the text of her speech is available here UCAO 40th Anniversary)
and Natalia Lebedin (text of speech available here Malanka 2023)
Thank you everyone who made this night possible.
Thank you to the Malanka Committee, Silent Auction Committee, Silent Auction Donors, Torte-makers and Donors, Wine Bar volunteers, those that helped set up and clean up, and again, thank you everyone for coming out tonight.
Дякуєм усім що прибули, і щиро седечна подяка усім добровольцям (please let us know if anyone was overlooked!):
Fr Robert Jager, Iryna Soltys Petrowski, Mariyka Hawryluk Gordon, Anastasia Akrouzhnou, Thomas Hamrick, Natalya Schaller, Regina Pekurovska, Chrystia Liscyneska, Marta Mudra, Victoria Savage, Mark and Daniel Petrowsky, Kristina Skarupa, Olya Verbytska, Vadzim Sarokin, Yura S., Colin Graham, Olena Mladenova, Denis Shkurapet, Andriana Nazar, Svitlana Sushch, Oksana Zaitseva, Daryna Zaitseva, Larissa Boiwka, Lidia Slyvka, Dr Yuriy Slyvka, Yuliya Korotaeva, Marianna Klochko, Myroslava Mudrak, Gene Finkler, Inna Milbaugh, Tatiana Sharygin, Amriah Nagi, Mary Catherine, Kristen Britsch Beal, Walter Dolbin, Tetyana Hubska, Olga Soaltys, Olga Martin,  Belle's Bread, Pistacia Vera, La Chatelaine, Windhorse Painting Studio, BalletMet, Destination Donuts, Katalina's, Allvera Body Wrap & Wellness Center, Superior Urgent Care, EJ from Ukraine, and a super thank you to the Clintonville Womans Club for hosting us again this year.