Concert For Ukraine
October 21 @ 7:00 pm

-

9:00 pm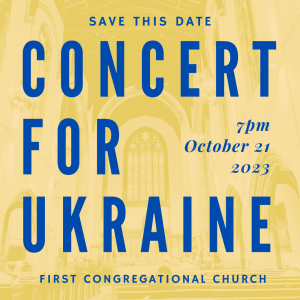 Saturday, October 21, 2023
7 pm
First Congregational Church
444 E. Broad Street, Columbus
Music and song lie deep in the Ukrainian soul, in good times and in bad. They soothe, they rage, they cry, but they never surrender. The Concert for Ukraine will gather those emotions in the works of Ukraine's best composers, from Bortniansky to Hulak-Artemovsky, from Lysenko and Leontovych to Skoryk and Silvestrov. The talents of some of the best choirs, musicians, and soloists in Central Ohio, all Americans who support Ukraine's right to exist, will perform in this benefit concert. Join us in an exciting evening that will move you but will also lift your spirits. All proceeds will go directly to Frontline Medical Ukraine.
Концерт для України
в суботу 21 жовтня 2023
о 7 вечора
First Congregational Church
444 E. Broad Street, Columbus
Музика і спів це душа України, в часах добробуту як і в горя. Вони нас успокоюють, з нами лютують і плачуть, але ніколи не дають нам здатись. В Концерті для України відчуєте ці емоції в творах найкращих українських композиторів –від Бортнянського і Гулака-Артемовського, від Лисенка і Леонтовича, аж до Скорика і Сільвестрова. Самі найкращі місцеві хори, музиканти та солісти, всі американці які підтримують Україну, виступлять на цьому концерті. Обов'язково прийдіть на цей концерт щоб піднести нас усіх на дусі! Ввесь дохід призначений на безпосередню допомогу Україні, Frontline Medical Ukraine.