Introduction to Ukrainian Beadwork – Sylianky – Workshop
December 3 @ 12:00 pm

-

4:00 pm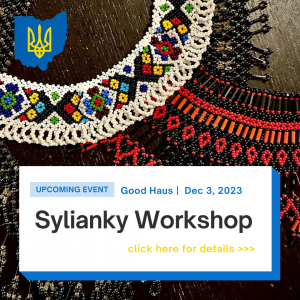 Introduction to Ukrainian Beadwork – Sylianky – Workshop
Sunday from 12:00 PM – 4:00 PM EST
This beginner level class is intended for adults. We will be using size 8 seed beads. This size is a little bit larger than the more common size 11 beads but good manual dexterity, good eyesight, and patience are still key. All materials will be provided. Students will learn everything they need to know in order to complete a sylianka necklace.
Ukraine has a very long, diverse, and rich history of beadwork. Today, most beadwork in Ukraine is referred to in a general way as "Gerdany" (гердани.)
Instructor Larissa Boiwka is a Ukrainian American artist and designer. Her family came to the United States from the Lemko (Лемківщина) and Halych (Галичина) regions of Ukraine. Larissa has taught beadwork and embroidery classes at Byzantium and the Columbus College of Art and Design for nearly twenty years. She has created work for private clients as well as film and video productions since 2007 under the label  Wilde Hunt Corsetry.
All profits of the class go to the Ukrainian Cultural Association of Ohio and their philanthropic efforts in Ukraine. Please come join us for an afternoon of beadwork, Ukrainian music, and good company! Слава Україні!